==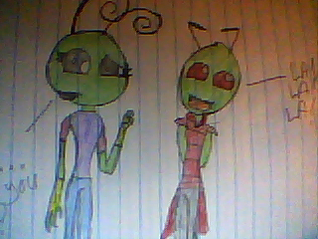 Name:
==
Xeena
Species:
Irken
Age:
150 (Irken) 15 (Human)
S.I.R: KiMi
'Relationships: KiMi':
KiMi is her trustworthy S.I.R, who stays by her through anything. They have a sisterly relationship, and she would do anything for her, and vice versa. They share their tastes in movies (Except Twilight.) and often are hyper together. Sure, they don't agree on some things, but they agree on more stuff than stuff they don't. She stays with her through thick and thin, and enjoys her company. And vice versa.
Zim: Zim is one of her best friends, who sticks by her through thick and thin. (I use that phrase a lot...XP) Xeena thinks his self-centered-ness is a bit much, but they still share the same tastes in some things. Their S.I.R's both annoy them to death, which they agree on, for example. Xeena has known Zim ever since she moved to Earth with KiMi.
Biggest pet peeve:
That people interupt her sometimes.
Disguise:
Her disguise consists of a blonde wig with pink highlights, purple eye contacts, an over-sized rainbow shirt,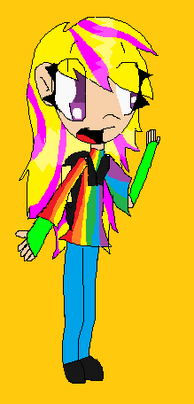 neon-green armwarmers, a blue necklace, jeans, black boots and a simple backpack to cover her PAK.
Theme song:
http://tindeck.com/listen/uhlg
Other facts (OF DOOM!):
She sometimes wears a belt.
She dispises Twilight.
She never has seen Twilight, nor does she ever want to, or will.
She is fairly good at drawing.
She enjoys making things awkward and cheesy.
She is often recording, or drinking an Irken soda when drama and/or fights are going on.
XEENA™ BELONGS TO ~INVADERXEENA~™ I HAVE COMPLETE AND UTTER PROOF THAT I OWN HER. IF YOU EVER SO THINK OF STEALING HER THEN THINK AGAIN. YOU MAY NOT USE MY XEENA ™ TEMPLATES FOR YOUR OWN CHARACTERS WITHOUT MY PERMISSION. THANK YOU.
Ad blocker interference detected!
Wikia is a free-to-use site that makes money from advertising. We have a modified experience for viewers using ad blockers

Wikia is not accessible if you've made further modifications. Remove the custom ad blocker rule(s) and the page will load as expected.