Name: Xara
Age: 140 (Human) 14 (Irken)
Siblings: None
SIR: TOPI
Symbol: Paper and pencil
Physical appearance: Xara's eyes are an icy blue, her skin is light green, she has three dot markings (Each bigger than the last) under each eye. Her outfit consists of a black neck warmer (Much like a scarf, only smaller, and tighter.), a hot pink shirt with a black triangle shape at the top,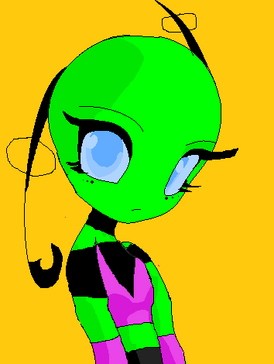 pink armwarmers, a blue miniskirt, black legwarmers and hotpink flats.
Style: A mix of Girly Girl, Tomboy, and Punk ("Giromunk" seems like a legitimate title.)
Rank: Defect
Personality: Xara is a, what she likes to call, "Giromunk-ic" Irken. She relates to Kira in some ways: Likes crazy colors, can be spazzy sometimes, is easy to annoy, likes Bacon, though they are not related. (More to come)
Most likely to say: "The name's Xara, you are?"
Least likely to say: "You have 5 seconds to tell me who you are before I call the cops."
More to come soon!
XARA™ BELONGS TO ~INVADERXEENA~™ I HAVE COMPLETE AND UTTER PROOF THAT I OWN HER. IF YOU EVER SO THINK OF STEALING HER THEN THINK AGAIN. YOU MAY NOT USE MY XARA ™ TEMPLATES FOR YOUR OWN CHARACTERS WITHOUT MY PERMISSION. THANK YOU.
Xara, copyrighted to ~InvaderXeena~ since 05/10/2012, October 4:17 PM

Ad blocker interference detected!
Wikia is a free-to-use site that makes money from advertising. We have a modified experience for viewers using ad blockers

Wikia is not accessible if you've made further modifications. Remove the custom ad blocker rule(s) and the page will load as expected.