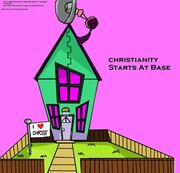 Vanellope Von Schweetz is a 10 year old girl who is the president of Sugar Rush, a go kart racing game from Disney's Wreck It Ralph. She is an autistic girl who has a crush on Brayden and is allergic to walnuts.
Story
Vanellope, getting bored of her life in Sugar Rush, the candy coated racing game, decided she would game jump into the real world and live in a house with her new friend, Duskull. She made it, only to make a clone of her that would watch over Sugar Rush, doing the same with Duskull. She moved into a white painted house with Wirz, a 10 year old like herself. Wirz he knew a boy named Brayden, and Vanellope eyes grew larger, not knowing Brayden was already in love. Wirz and Brayden now recently found out she gets viontley ill after even getting near a walnut. Other than that, Vanellope lives a good life with Wirz and sometimes Brayden. She doesn't know it yet, but Brayden is already in love with Lauren, Vanellope not knowing.
Ad blocker interference detected!
Wikia is a free-to-use site that makes money from advertising. We have a modified experience for viewers using ad blockers

Wikia is not accessible if you've made further modifications. Remove the custom ad blocker rule(s) and the page will load as expected.