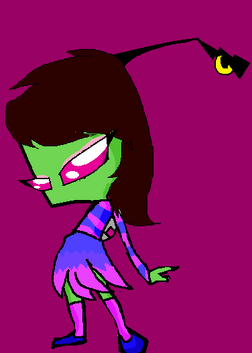 Name: Jes (Short for Jessica) (Irken) Jessica Lynn Jones (Human)
Age: 130 (Human) 13 (Irken)
Siblings: http://izshippingfanon.wikia.com/wiki/Res
SIR: YOKO
Symbol: Flower
Style: Girly girl
Rank: Defect
Personality: Jes is a hyperactive, spazzy, and friendly Irken. She loves to make friends with any living thing. She, unlike her sister, Res, is a girly girl, which makes it hard to believe she and Res are related. Unlike Res, Jes is not a tomboy. She will not rest until she can convert her sister into a girly girl as well. (More to come soon!)
Most likely to say: "Hi everybody! My name is Jes!"
Least likely to say: "Don't talk to me."
Friends: Res, YOKO, REA, Mei
More to come soon!
JES™ BELONGS TO ~INVADERXEENA~™ I HAVE COMPLETE AND UTTER PROOF THAT I OWN HER. IF YOU EVER SO THINK OF STEALING HER THEN THINK AGAIN. YOU MAY NOT USE MY JES ™ TEMPLATES FOR YOUR OWN CHARACTERS WITHOUT MY PERMISSION. THANK YOU.
Ad blocker interference detected!
Wikia is a free-to-use site that makes money from advertising. We have a modified experience for viewers using ad blockers

Wikia is not accessible if you've made further modifications. Remove the custom ad blocker rule(s) and the page will load as expected.