Name: Mak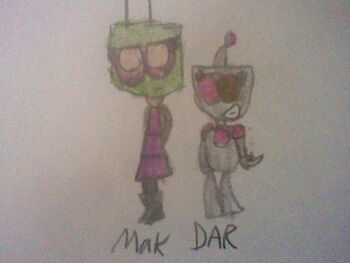 Age: 15
Species: Irken
Rank: Invader
Assigned To: Haven't figured that out yet. :P
SIR Unit: DAR
Most Likely to Say: "Shut up, DAR."
Least Likely to Say: "What a wonderful day!"
Appearance
Mak has pink eyes, green skin, and curled antenna. Her uniform is pinkish-purple.
Personality
Mak is very serious, angry, and cruel.
Trivia
She was only created to give DAR a master.
Ad blocker interference detected!
Wikia is a free-to-use site that makes money from advertising. We have a modified experience for viewers using ad blockers

Wikia is not accessible if you've made further modifications. Remove the custom ad blocker rule(s) and the page will load as expected.