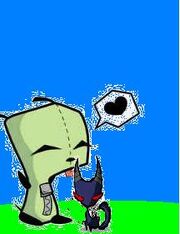 This is the romantic pairing of GIR and MiMi.
What GAMR Means:
Gir
And
Mimi
Romance
Even though Mimi and Gir did not have that much interaction, they still recognised each other as SIRs. Gir is cute and playful, whereas Mimi is serious. If the show would have continued not only would Tak be back, but also Mimi. There planned to be one episode where Gir, Mimi and Invader Skoodge's SIR compete in a pet show.
Ad blocker interference detected!
Wikia is a free-to-use site that makes money from advertising. We have a modified experience for viewers using ad blockers

Wikia is not accessible if you've made further modifications. Remove the custom ad blocker rule(s) and the page will load as expected.