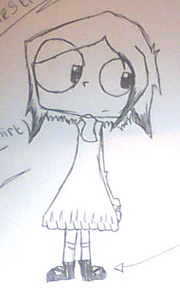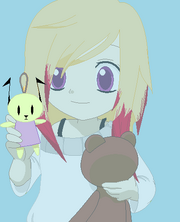 ((I JUST NOTICED THAT I HAVEN'T MADE A PAGE FOR HER YET!!))
Name: Chestkie
Age: Un-known
Eyes: Purple
Hair: Blond, but with red high-lights ((It's blood))
Human, but a ghost. Killed by her older brother many many years ago.
Born: Un-known
Where she grew up in: London, then moved to America when she died to look after her friend.
Love interest: Pig Spleen
Most likely to say: "....."
Least likely to say: "I HATE YOU SO MUCH I WISH YOU WAS THE ONE TO DIE AND NOT ME!!!"
TBA @_@
Ad blocker interference detected!
Wikia is a free-to-use site that makes money from advertising. We have a modified experience for viewers using ad blockers

Wikia is not accessible if you've made further modifications. Remove the custom ad blocker rule(s) and the page will load as expected.