This belongs to TK, so please do not edit this in any way for any reason without permission.
Appearance
She has medium-length blond hair, with a haircurl cuz I felt like giving her one, and dark blue eyes. She usually wears a red t-shirt, a red skirt, and sandals.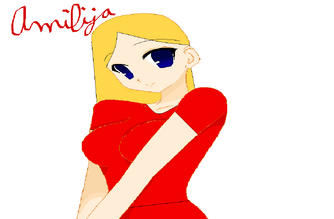 Personality
Her personality deviates much from the stereotypical Latvian personality. She is tough, cruel, and violent. She does have two stereotypical Latvian traits, though: she loves ramance navels and movies, and she is suicidal.
Trivia
Not much thought was put into her creation. Her creator actually only created her because she already had a Lithuanian character and three Estonian characters.
She believes God exists, but not the Devil. She goes against Him and believes He doesn't really care about anyone, and has very good reasons to back up her personal opinions, most of which including World Wars I and II, and the civil wars of several different nations.
She lost her grandfather in World War II.
She finds joy in the suffering of others, because she is suffering herself and believes everyone else should at least get a small taste of her suffering.
Ad blocker interference detected!
Wikia is a free-to-use site that makes money from advertising. We have a modified experience for viewers using ad blockers

Wikia is not accessible if you've made further modifications. Remove the custom ad blocker rule(s) and the page will load as expected.